Mikamangaka



Mikamangaka

English
MikaMangaka ミカ
Also known as
Mika
Gender
Female
Origin
United Kingdom
Age
16
https://youtu.be/RrNPdneR0Qk
Status
Active
Years active
2016-Now
YT channel
Other activities
Mixing, Drawing
A sample of a cover song by MikaMangaka
"PARTY JUNKIE", composed by Satsuki ga Tenkomor
MikaMangaka (ミカ漫画家) is a YouTube singer (Youtaite) known for her bouncy and lively voice that is crispy and also sharp- she is often confused with the famous Youtaite JubyPhonic [[1]]. She joined YouTube in 2015 but only started producing content in 2016. She tends to cover Vocaloid songs- although she has covered Anime songs and J-Pop- most often with her own lyrics unless stated. She has carried out livestreams with the singer [chvc9d7WWg cwWoIkyRQ|Emerii]. Mika had improved immensely since her debut in lyrics, mixing and vocals. This can be observed through comparison her oldest and latest cover.
Mika's main hobby consists of singing and drawing. She announced on her Instagram, Line and Twitter that she was opening commissions.
Mika is able to speak, read and write Japanese as stated to many of her companions on both Line and on broadcasts. Her accent isn't fluent yet she is able to include a certain flow to her speaking. Mika has proven that she can sing also in French in a broadcast in which she briefly sang in the language. Mika mixes her covers by herself and offers to mix for many others, especially if they are still new to the community or if her vocals are included.
Affiliations and Collaboration Projects Edit
[cRack (English Cover)]. (Group Chorus)
[X Party (English Cover)]. (Self Chorus)
List of Covered Songs Edit
please note this does not include Unlisted or Private Covers
[X Party]
[Science]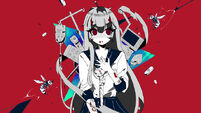 Currently none or to be added.
Exte.rnal Links
Edit
References
Edit