This article does not meet Youtaite Wiki's current standards and needs to be edited. Please read the Tutorial and Requirements pages and edit it.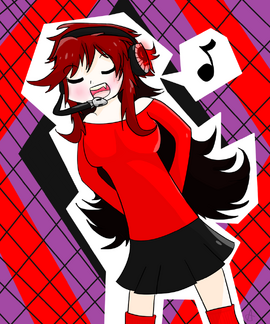 Lyrica (LyricDarkness) is a youtaite who joined the community October 26, 2010,She often times sings in English .Since the beginning Lyrica has wanted to bring her audience all the happiness that she can and to make her friends happy. She can sing in between high and low notes and is now experimenting her genderbent/male voice (Lark).Personality wise Lyrica is really sweet (just like her favorite candy) and is often putting other's needs above her own. Even though she is very sweet she can also be very tsundere when she wants to be but she loves making new friends in the end.Larks personaility is much like Lyrica's expect he tends to be more grumpy and Angry.
known as

Lyrica

or LyricDarkness

Gender
Female
Origin
Canada
Real name
doesnt wish to be known
Born
April 4,1997
Status
Active
Years active
2010-present
YT channel
Other activities

Drawing 

Lyrica is often seen with her friends Imoristar,PrincessDevin302 ,Dezzi and Nyeou and she is very close to Uncool so some people ship them for this reason.
Over the last three years Lyrica has gained many nicknames which include Lyrica,LD,Lyri,Candy Leader,Darkie,Candy Addict,Candy-chan and Candy Dark.She tends to be called Lyrica or Lyri by most people though.
She is hoping that her second Channel for her Genderbend Lark will be just as good as her regular channel and she will upload on both channels from time to time.
She has a Cat,two dogs ,a Rabbit,A hamster and a Bearded dragon (Named Hunter,Baily,Dyson,Marshmellow,Castiel and Oscar)
Her favorite colours are Black and red
She has a really big sweet tooth and she loves Lemon candy
She loves cats 
She likes Vocaloid Luka,Vy2,and usually listens to J-pop and K-pop
She has stage fright
She wears glasses 
She chose the name Lyrica because she wanted a name that sounded musical.Dark came from her DA account
Her first cover was Rotten girl by Hastune Miku.
She often draws her avatar with vampire fangs.
Her Male persona usually acts grumpy and stuborn.(Also shown with fangs)
She sang her first Japenese cover in 2014 (Still doll) 
She has 3 little sisters (triplets) and two older brothers